Official Mascara Correspondent Ashleigh Ciucci test drives SALMA HAYEK NUANCE Full Effect Ultra-Volumizing Mascara ($10). How does she fare? Read on for her review.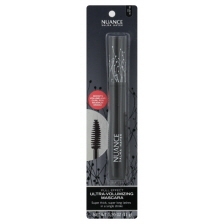 The one thing I'll say about the mascara is that it doesn't live up to its name. While this may be a bad thing (marketing-wise), the lashes you're left with are dreamy. One coat with the stiff and tapered spiral brush, and you'll achieve feathery flared lashes.
Upon application of the second coat, you'll find that you lashes are grouping together in mod-like spikes (in a good way this time.) There isn't much volumizing, but my lashes are coated in pigment and almost Twiggy-like in their appearance. It's too dry for an after-work touch-up and needs a heap of eye makeup remover at the end of the night, but I'm so happy with the initial results, that I don't mind.
It might not be an everyday mascara because the look is quite striking, but I'd def buy this baby.–Ashleigh Ciucci
Like this post? Don't miss another one! Subscribe via my RSS feed.