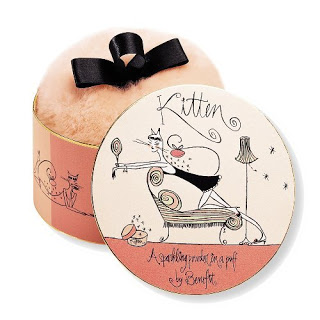 Gals, my homeslice Erin from Benefit Cosmetics hooked a girl up with a SICK spray tan courtesy of esthetician Nicole at the brand new Benefit Boutique on 454 West Broadway in SoHo. It's a veritable townhouse of total delight. Read on….

There, you can get brow tinting, faux lashes that last three days, even brow threading. The best part? They appreciate your lifestyle and don't insist on an appointment (though when you can, you should make one).
Before getting a medium-dark tan (I opted for that vs. light-medium–I'm not driving, right friends?) I got a little mini makeover from one of the makeup artists including a little primer and some PosieTint, one of my fave Benefit items. Before I left, Erin tossed me a glamazing Benefit Kitten Powder (right), which I have not had in my posesh since about 2002. Story time: In 1999, my brother's ex-fiancee got me HEAVILY involved with the brand when she came to our house bearing gifts–and mine was a bag of Benefit goodies, including the very sparkly powder you see above, which has not been produced in years. It killed me to toss my container, which graced my vanity for  an inappropriate length of time. The good news is now I can purchase a replacement powder whenever I fancy (and I may fancy often) at the SoHo boutique.
Like this post? Don't miss another one! Subscribe via my RSS feed.