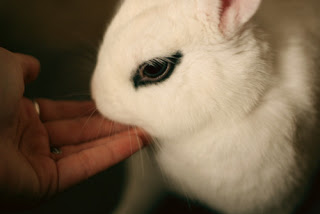 Thanks to my gal Dina for introducing me to ANIMALS TALKING IN ALL CAPS, which is my new favorite blog. Here's my favorite post, which features a hilarious bunny with a natural well defined eye, but who responds to a compliment in a VERY beauty blogger manner. Behold:
THANKS, IT'S URBAN DECAY'S 'PERVERSION' LIQUID LINER. IT'S PRETTY GREAT. I USE A CHEAP DRUGSTORE PRIMER AND A MAC 208 BRUSH FOR SMUDGING AND BLENDING. 
Check out the full post here.
Like this post? Don't miss another one! Subscribe via my RSS feed.