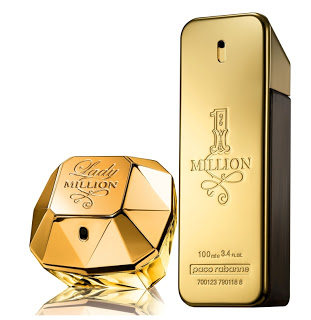 Paco Rabanne, the #1 selling men's cologne internationally is doing a stunt, but, as Paco Rabanne is wont to do, you can ensure it'll be fancy and dripping in precious metals. Read on…
The brand is enlisting two models (One Million Man and Lady Million) as well as a huge gold armored truck to park in Herald Square to unveil the launch of Paco Rabanne's One Million and Lady Million fragrances in Macy's. There will be "paparazzi" and everything, so you need to get there and get ready for your closeup.
The Paco Rabanne SNAP INTO YOUR MILLION LIFE stunt takes place tomorrow, September 30 at 11:30am-1pm at Macy's Herald Square and select Sephoras around the city, as well. Here's the schedule:
Sephora-W. 42nd Street
b/w 7th and 8th Ave, (south side)
2:00-2:30 PM
Sephora-Fifth Ave
b/w E.48th and 49th Street
(east side)
3:00-3:30 PM
Sephora-(Soho) Broadway
b/w Spring and Prince Street
(west side)
4:15- 4:45 PM
Macy's Herald Square-
Broadway b/w W.34th and 35th Street
5:30-6:00pm
And tell me: What would your million life include? For me, it's all about jewels and [faux] furs.
Like this post? Don't miss another one! Subscribe via my RSS feed.