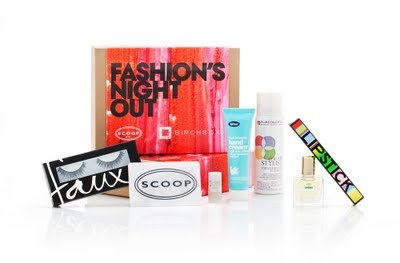 For Fashion's Night Out on Sept 8, Birchbox partnered with Scoop NYC and created a Limited Edition FNO box with all their favorite beauty essentials you will need on that crazy, crazy night of retail. By the by guys, I'll be hosting at Saks Fifth Avenue at the new Burberry Beauty counter! Come visit me there?
Back to Birchbox and Scoop, they'll be selling a limited run of the boxes on Birchbox.com, starting the day of FNO (Sept 8), for $42.
In addition, the Birchbox & Scoop box will be given to all customers who spend $150 in both the Women's and Men's Scoop boutiques in NYC's West Village on the night of FNO. The boxes will also be in their Dallas store.
Each box includes:
• Bliss Hand Cream
• Faux Lashes
• JOYA Studio Composition No. 1 Parfum
• Lipstick Queen 15 Minutes of Fame Pop Art Gloss
• Nuxe Huile Prodigieuse® Multi-usage Dry Oil
• Pureology Strengthening Control Zero Dulling Hairspray
• Scoop NYC Gift Card for 25% Off
Like this post? Don't miss another one! Subscribe via my RSS feed.