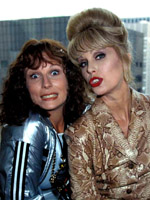 Sweetie darlings, after the hurricane being an epic fail, this is the best news I've heard in weeks.
"Absolutely Fabulous," the comedy of HILAR proportions is coming back in the form of three specials. The news comes before the show's (gasp) 20th anniversary–it debuted in 1992. I used to babysit for girl who was a NIGHTTERROR just because her family had Comedy Central–and mine didn't–in 1992. Moar Eddie and Patsy! Fun fact: One time my father (also an AbFab fan) called me from a client's office in suburban England with absolute DELIGHT that all the employees talked like BUBBLE. It was amazing.
Declaring herself "thrilled to be able to celebrate our 20th birthday with all of the original cast," Jennifer Saunders cracked, "We fully intend to party like it's 1991."
Will you be watching?
Like this post? Don't miss another one! Subscribe via my RSS feed.