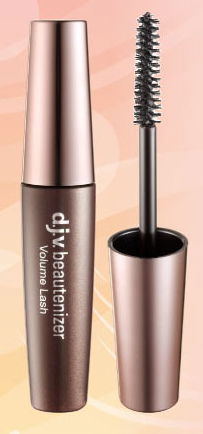 This week,
Official Mascara Correspondent
Ashleigh Ciucci
takes on D.J.V. Beautenizer Volume Lash Mascara.  How does she fare? For starters, she's been referring to it as the "One Coat Wonder." Read more for Ashleigh's review on this fiber volumizing formula….
This is what I'm going to call the "One Coat Wonder." It's been a really long time since I've seen a mascara perform so well after one coat. The thin stiff brush applied a generous amount of the super-creamy formula to each and every lash. I had enough time to get the product worked-in evenly, but as soon as it started to dry, it created clumps that were hard to work through. I found that one coat, evenly dispersed was more than enough. It's habit to work the product for a while or rush to a second coat because a lot of formulas don't grip the way they should. 
This one on the other hand offers the end result of multiple coats, with one swipe. Because of my experience in the AM, I didn't even try to (or need to!) go in for a touch-up before dinner. While I did need to use eye makeup remover at the end of the night, it was totally worth the extra trouble. 
I'd def buy this One Coat Wonder!
Buy D.J.V. Beautenizer Volume Lash at Sephora.com for $24.
Like this post? Don't miss another one! Subscribe via my RSS feed.