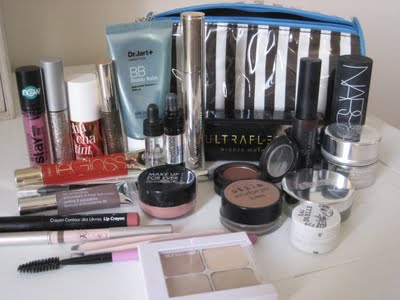 There's been more turnover in my makeup bag lately than EVER–it seems fabulous makeup products are at an all-time high this summer. I realized this as I re-organized my greater makeup stash, which lives in the drawers of my vanity. The best of each category (my current faves, which rotate on a near-weekly basis) lives in my currently-in-circulation makeup bag. It's all housed in this fabulous brown striped cylindrical bag, created by Henri Bendel to benefit Fashion Targets Breast Cancer, CFDA's charity arm. Do you love the blue piping or what? Without further ado, here are the makeup items I plum can't live without these days. Left to right, here we go:
Essence Stay With Me Long-lasting Lip Gloss in I Like Cotton Candy at less than $3, can you pass this nonsticky gloss UP? Also, I love that the name reminds me of that creepy Shakespeare's Sister video I'm convinced myself and my best friend in high school Rachel Schwartz are the only ones who remember. Behold, below:
Urban Decay Heavy Metal Glitter Eyeliner in Midnight Cowboy Though it's heavy on the sparkle, it's surprisingly subtle when paired with a stained lip and nada else.
Benefit Cha Cha Tint is my summer staple. Read the full review here.
Topshop Liquid Liner in Tarnished, an ish-colored metallic. It's a greenish goldish bronze that decorates any colored iris to perfection.
Dr. Jart+ Water Fuse Beauty Balm is the stuff I cannot stop talking about. Foundation, concealer, moisturizer and SPF in one. What are you DOING all the time if you're not wearing it?
SkinCeuticals Hydrating B5 Gel is excellent to keep on you for a little on-the-go rehydration or to revive your current makeup. It's also excellent to use in mascara to keep it from getting dried out (just a drop or two in the tube). The mini bottle's genius.
Sircuit Skin Fixzit is a necessity as I can't just pile makeup over an active blemish. It just wouldn't be the Christian thing to do. Another mini bottle for travel. Love.
By Terry Hyaluronic Eye Primer provides a stunningly smooth surface for my eye shadows while hydrating the delicate eye area.
Ultraflesh Bronze Metalika Bronze And Glow Collection is a steal at $39. This vertical makeup situation houses a two shadows, a bronzey blush and two metallic eye pencils in a bronze and a shimmery white that are great for defining the inner corners.
Vincent Longo Lip & Cheek Gel Stain in Liquid Kiss is a deep berry stain that works well on lips paired with a simple eye concept.
NARS The Multiple in Laguna is the perfect light cream bronze and so easy to apply touchups thanks to its twist up stick applicator. I use it whenever my Cullen pallor takes over, which is approximately every 20 minutes.
La Prairie Anti-aging Eye Cream SPF 15 remains a luxe indulgence I require. It's simply the best eye cream money can buy. I've been using it for years after my crows' feetless friend Chopin confessed it's her eye cream of choice.
La Mer The Lip Balm is another of my years-long obsessions. I'm so into this, I refuse to take it OUT OF MY APARTMENT for fear I'll lose it. However, my recent oral acne medication prescription has left my lips so parched, I LITERALLY cannot use anything else to moisturize my pout so it's become all La Mer all the time. I have a Napoleon Dynamite situation if I'm without it even for a few hours.
Stila Smudge Pot in Kitten The perfect shadow when applied with brush to the full lid. Imparts subtle beige shimmer.
MAC Cosmetics Eyeshadow in Sparkle, Neely, Sparkle! ONLY THE BEST EYE SHADOW THERE IS.
Diptyque Eau Duelle Solid Perfume in Philosykos A gal's gotta have a scent on the go and this one smells divinely of subtle fig.
Sonia Kashuk Hidden Agenda Concealer Set YET another of my longtime faves, pre-beauty editor status, even. This palette boasts three blendable concealer shades (including one neutralizer) and a powder to cover up blemishes, undereye circles and redness.
Make Up For Ever Aqua Creme in 5 The only waterproof blush there IS. Read my full review here.
Clinique Lid Smoothie Antioxidant 8-hour Eye Color is a new cream shadow formulation housed in a convenient tube with a cool metal applicator for sweltering summer days like the ones we've BEEN HAVING FOR THE PAST 30 DAYS WHERE IT'S IN THE 80s IN THE MIDDLEOF THE NIGHT.
Bobbi Brown Lip Crayon in Posey is the perfect nude-pink for a your lips but DECORATED look.
CoverGirl Liquidline Blast Eyeliner in Black is one of the glide-iest liners available at the drugstore.
L'Oreal Paris LeGloss is a sheer balm-gloss that yields no stickiness. Full review here.
Anastasia Perfect Brow Pencil in Ash Blonde is my eyebrow savoir. Full review here. Anastasia's tweezers made in Italy are the only ones I trust to remove stubborn hairs and they travel in a set with my pencil.
Courtney Akai Spooly Brush is a must for keeping my lash extensions groomed. And it's pink, just like her flirty feminine lash boutique in midtown.
WHEW! That's it. And tell me: What's in YOUR makeup bag this summer?
Like this post? Don't miss another one! Subscribe via my RSS feed.