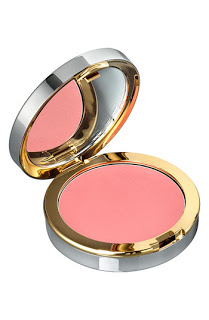 I recently took my makeup bag to La Prairie HQ so La Prairie Color Ambassador Raychel Wade could assess my on-the-go cosmetic situation and teach me how to eliminate excess product. Turns out? I have a TON of excess product–specifically lip paraphernalia. Read on…
My makeup bag which establishes residency in my purse included about 14 lip things–pencils, glosses and lipsticks, one eye cream, one eye liner, and a concealer. Not so balanced, right? My argument is that I don't like to be on top of my purse to such an all-the-time degree. I only switch up my situation every few weeks, so I wind up accumulating all manner of options I may want to go with my various looks, moods and outfits. I don't want to be on a date suddenly and only have two lip accoutrements on my person, none of them being THE lipstick. I'd totally pull a Lisa Houseman ("Where is my beige. Iridescent. Lipstick!") But I'd been carrying around enough lipstick to give myself scoliosis.
Lisa Houseman!
Raychel advises that when managing your own makeup bag clean-out, start by assessing what you can't live without. Then, acknowledge we're all drawn to the same color–and you blink and suddenly you've got a full drawer of them. For me, that's a sheer red situation. I had about five. We pulled out the stunt doubles. She also mentioned you really only need one mascara, which you should replace every couple months. Then, she advised I carry a mini foundation and a cream blush for touch-ups. I scored the super creamy and luxe La Prairie Cellular Radiance Cream Blush ($70 at nordstrom.com). Why I rely only on only my lips to be reapplied, I have no idea. It's straight up irresponsible of me! By 2pm, my cheeks are DEFINITELY fading like a flower, to quote the sage musical stylings of Roxette. This translucent blush provides a subtle near-sunburnt glow, which makes me look healthfully beachy.
With my far more balanced bag, I'm much better prepared for on-the-fly plans. Tell me: What's in your in-purse makeup bag?
Like this post? Don't miss another one! Subscribe via my RSS feed.