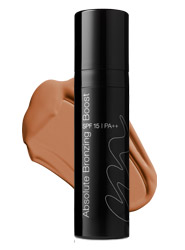 Look. I'm hard-working and I want my bronzer to be, too.
I'm not reaching for the stars here. I want everything that goes on my cheeks to be skin-care grade. That's my new thing. Because my adult acne situation has gotten OUT OF CONTROL (mama's got an appointment with Dr. Colbert on Monday, lest you worry too much), I have to be extraordinarily careful about that with which I slather my face up. Which is why I'm loving Murad Absolute Bronzing Boost SPF PA++. It imparts a little color, won't clog pores AND protects my mug from the sun. This dream formula's even oil-free, so I can relax and bronze with abandon. Read on…
It's truly the liquid equivalent of THIS shade, which I've been TRYING to obtain since I found it in the form of DIRT on a crater in Israel. I love how light it is, but that it's BUILDABLE, so you can achieve a believable glow easily.
My favorite use for it? Adding it to my Dr. Jart+ B.B. Cream, with which I'm irrationally obsessed. It's truly my foundation, concealer, SPF and moisturizer in one, leaving a dewy, uber-hydrated finish while still caring for my acne-prone skin. But one thing that's difficult about it? It comes in ONE shade–and that shade is Vampire. Normally, that's my hue–but since I've been catching more sun than I have in a year, thanks to the Summer of Glamber–it's ACTUALLY a smidge light. So I've been mixing a pump of this INTO it to customize my shade and make my own kind of complexion music, in the paraphrased words of a famous philosopher who goes by the name of Mama Cass Elliot. To do your thing is the hardest thing to do.
Sing your own special skin care song. Murad Absolute Bronzing Boost SPF 15 PA++ retails for $38 at murad.com.
Like this post? Don't miss another one! Subscribe via my RSS feed.