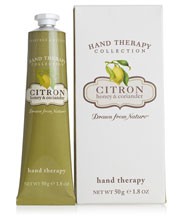 Fictionary is a column showcasing beauty-related words that don't exist, but should.
Oh, let's not act as if we ALL haven't been there. You know. You've perhaps had a weekend of indulgence, gastronomically speaking. I don't know your life, but say MAYBE you took a few days off from the gym. You get your jeans out of the wash (lately my faves are my Diesel Clushy white ones) and you find you need to be two-pronged about your approach.
You need to lie on the bed whilst zipping, then do the squat/shimmy to stretch 'em on out a bit before they relax and stretch a bit. But during step 1, the zipper won't move as easily as, say, if you HADN'T enjoyed truffle fries at brunch the morning before and your index finger gets a little… peely and dry from the experience. And THAT, my friends, is Fat Girl Finger. Read on for its remedy…

But don't fret–naturally, I've got a fabulous solution for you. Crabtree & Evelyn Citron Honey & Coriander Hand Therapy (also available in an age-defying formula–which is on SALE for $10!) infuses zipper-wracked delicate digits with a dose of moisture, care and the freshest, most DIVINE subtle citrus scent to delight your olfactory sensory neurons. Vibrant lemon, fresh coriander and sweet honey blend in this fancy French garden inspired packaging. Plus, it's the perfect size to store in your purse, so that when you perhaps become afflicted with Fat Girl Finger on the GO (fall jeans shopping anyone?) you'll have ammo at the ready.
Crabtree & Evelyn Citron Honey & Coriander Hand Therapy retails for $10 at crabtreeandevelyn.com.
Like this post? Don't miss another one! Subscribe via my RSS feed.