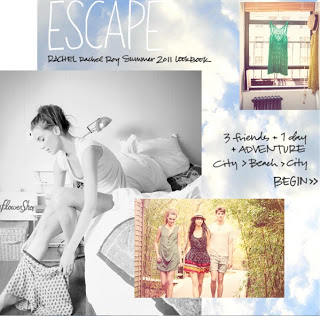 Ladies. Is it approximately a THOUSAND degrees where you are? NYC feels like I'm walking in a JAR OF MAYO. Seirously. That's why I'm loving the Summer 2011 RACHEL Rachel Roy Lookbook, which follows the journey of three RRR girls who escape the sweltering city for a fun summer adventure.
In the meantime, I got the scoop on Rachel Roy's
summer beauty must-haves for a weekend on the beach. Read on to find out her tricks to looking bright, fresh and flawless. This gal rocks everything from Jo Malone to Bonne Bell Lipsmackers!

What makeup do you carry with you for a weekend getaway?
I always carry Burberry Lip Cover NO.04 in Rosewood and Bobbi Brown Shimmer Brick compact- I use it as blush! It gives a bronzy glow before the sun gives me the real deal. I also always have with me Estee Lauder TurboLash mascara.
How do you keep your makeup intact during a day on the beach?
I don't wear any! On the beach I stick with strawberry Lip Smacker by Bonne Bell in extra large and Jo Malone Red Roses Cologne. It not only serves as a perfume but also as a spritzer to hydrate myself. Lastly, Clarins spray-in SPF 50 for sun protection- so important!
How do you style your hair for a day on the beach?
I usually wear my hair down with little maintenance or pull it back in a pony. One of my fave summer products is KeSARI Indian Oil Hair Serum- I'm obsessed! It combines natural botanical extracts from India with state-of-the-art technology and makes your hair so shiny and reduces frizz (an essential with beach air!) To me, the perfect beach look is tousled, easy, loose waves- similar to the look that Gisele Bundchen has perfected!
Do you change your makeup and fashion routine in the summertime?
Yes! During the summer I definitely channel my bohemian chic favorites – for example Raquel Welch, Bianca Jagger and Miss Trinidad, all circa the 1970's. In terms of summer fashions, I love high-waisted denim, men's style blouses out of sheer cotton and long maxi skirts and dresses.
What do you always make sure to pack when you travel somewhere warm?
My must-haves when traveling somewhere warm are my Indian thong sandals, vintage 501 men's Levi's, a perfectly worn in brown leather belt, white tank tops, Theodora and Callum boutique print wraps and sarongs, gold door knockers and always my gold Manon body chain.
What are your three summer essentials?
1. My ipod- such a must for a day on the beach. See my summer playlist- it's on RachelRoy.com now!
2. Tunics- they are not only easy to wear in the summer time- but also serve as a great beach cover up. There are some in my Rachel Roy pre-fall collection that I am living in.
3. Lotion- I mix Jo Malone rose scented lotion with Chanel NO. 5 lotion as my summer perfume – after a tan it's really all you need!
Like this post? Don't miss another one! Subscribe via my RSS feed.