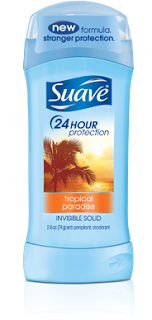 Happy beeeeeeeeday to me, friends!
Anywhoodle, I've been doing so much research on Tahiti, as my trip there looms closer.  Every single picture of the joint boasts a golden and brown hued sunset with palm trees. I'll be shocked if I see a palette of any color save sepia and goldenrod once I get off the plane! I'm not complaining, obv. I just can't wait to see what kinds of colors I'm greeted with once I step off the plane–because right now it looks like a Rainbow Brite Murky-esque antagonist effectively rid the joint of shades not fitting into the "warm" description. Read on…
But naturally I'm bringing with me my new FAVORITE holy grail deodorant, Suave Tropical Paradise Invisible Solid. Does the image on the tube not look EXACTLY like Tahiti? It smells DIVINE–like coconut, surf and wafting aromas of the tiniest hint of tropical fruit. Vacation, in a twist-up tube. Memo to Suave–PLEASE make this into a body spray; I'd totally buy it.
How great is this scent, dolls? When walking with my friend Lauren in Union Square the other day, I lifted my arm to gesture that we were making a left and she commented that my pits were emitting a truly delightful fragrance. If that isn't a testimonial, I don't know what is. Once I disclosed what it was, we immediately ducked into a CVS where she purchased a smaller sized one for under $2 (!) and I stocked up on a backstash–because I am NEVER running out of this one. Despite the fact that I'm literally dripping in deos. I refuse to use ANY other than this cheap-as-hell iteration.
In short? It's the antiperspiral (that's a new word–I made it up; let's hope it doesn't lead to a nine-hour conversation on Twitter with an intellectually challenged follower) equivalent of The Beach Boys' Kokomo.
Suave Invisible Solid Deodorant in Tropical Paradise retails for $2.45 for the 2.6 oz size at soap.com.
Like this post? Don't miss another one! Subscribe via my RSS feed.