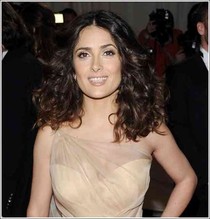 Salma Hayek at the Met Ball had her makeup applied by Celebrity Makeup Artist Kristofer Buckle. Salma was wearing the last gown Alexander McQueen made! "I used peach and gold to add heat to the neutral browns in the smoke around Salma's gorgeous brown eyes.
First, I blended in COVERGIRL NatureLuxe Silk Foundation in Nutmeg to accentuate her golden complexion.
I used COVERGIRL ExactEyelights Eye-Brightening Eyeshadow in Vibrant Brown to add drama to the upper lashline using a soft brush. Then with a flat lining brush used a metallic black closer to the lash line. Then, I added two coats of COVERGIRL LashBlast Fusion Mascara in Black for extra pop! On her cheeks I used a peachy pink color, COVERGIRL & Olay Simply Ageless Sculpting Blush in Plush Peach. Lastly, I used a gold eye shadow on her cheek bones to give her an ethereal glow.
To finish her look, I used COVERGIRL LipPerfection lipcolor in Sultry."
– Posted using BlogPress from my iPad