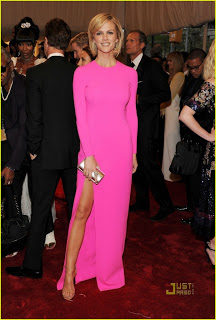 Brooklyn Decker looked gorge at the 2011 MET Ball with hairstyle courtesy of hair stylist Wesley O'Meara
Says Wesley, "Brooklyn just recently got a well publicized haircut. She went from long, very full blond locks to a very short texturized bob. We wanted to achieve a rock n' roll feeling, yet still have it look appropriate for what she was wearing and the red carpet for such a highly photographed upscale event."
Get the Look
"First, I used water to dampen her hair. I went through section by section and sprayed Cutler's volumizing spray at the root. I then added Kèrastase Resistance Volumactive Mousse from mid shaft to ends, using about a baseball sized amount for her whole head. Once this was finished, I went through and blew the hair out section by section. When this step was complete I used a 1 1/4" barreled curling iron in a standard 'roller set' fashion, then pinned each curl to set.
I then removed the pins and let the curls fall. I doused the hair then with Bumble & Bumble's Surf Spray to give a really 'beachy' look and to help some of the curl fall. I went through with my hands and shook her hair out really well, did some back-combing here and there. Finally, once Brooklyn was dressed I used Elnett Hairspray to lock the look into place."
What do you think of Brooklyn's shocking pink frock? I'm a fan!
Like this post? Don't miss another one! Subscribe via my RSS feed.