Official Mascara Correspondent Ashleigh Ciucci reviews L'Oreal Double Extend Eye Illuminator Mascara…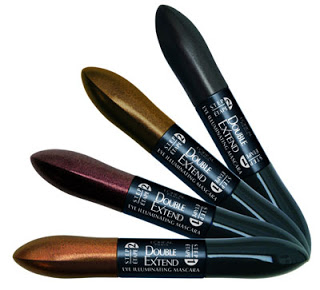 "Eye Brightening" mascaras are a difficult product to tackle, but L'Oreal has hit the mark with this one.
The double-ended mascara offers two layers of product that add up to sparkling eyes. The first coat is a soft black mascara that goes on with a soft tapered brush. The effect of this layer is soft fluffy lashes without a ton of definition. However, the magic happens with coat two. With a crazy combination of a spiral and a ball brush, you apply the colored side of the wand.

This formula is a creamy sparkling pigment which really grips onto your first coat. It adds a ton of length and yes, your lashes will glimmer. The combination of the base coat and top coat give you dramatic long and twinkling lashes. I was so impressed that you could actually see the shimmering pigment and that it made an impact on my eye color. I tried the Black Bronze for my green eyes, there's also Black Copper for blue eyes, Black Quartz for brown eyes and Black Crystal for all eye colors.
When I washed my face at the end of the night, I did get sparkles all over my face, so you'll want to use an eyemakeup remover to get it all off. I'd def buy this baby!
-Ashleigh Ciucci
Disclosure: Sample sent for editorial consideration
Like this post? Don't miss another one! Subscribe via my RSS feed.