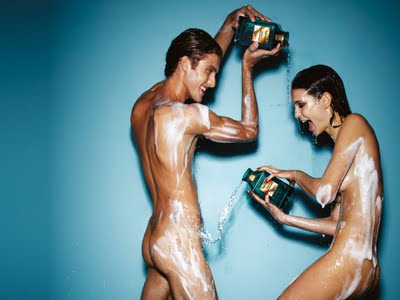 The Tom Ford Neroli Portofino Ad. Of course they're naked.
The new Tom Ford Neroli Portofino collection just swept the hell into my life and done screwed up my week's editorial calendar–because I HAD to discuss the beauty of this perfume. I took one whiff and swooned in that singularly Tom Ford-influenced way. It happened when I bought my Tom Ford Anouk sunglasses. And then sold them to Sarah Conley when I found the exact same ones in a better shade of tortoiseshell for my coloring. For the full review, read on…

But I digress most Sophia Petrillo-ly, which is perhaps apt as we're talking Portofino. Picture it: Portofino 2011, where I most certainly am not at the moment in this still-chilly-in-April weather we're having. But one whiff of this gorgeous perfume and I'm drinking limoncello on a terrace while being flatteringly BACKLIT wearing something filmy and tunic-y from Blumarine. The thing is? The scent is named for the resort town on the Italian riviera and it somehow SMELLS like vacation with sultry amber undertones. The scent of neroli evokes palm trees, expensive tiles, humidity and sun.
Packaged gorgeously (Fordified, if you will) in a translucent bright turquoise glass bottle juxtaposed with its golden Tom Ford label, this bottle is the vacation to Italy you keep planning, but never have the time and/or funds to take. So even if you can't get to that veranda and rock the Blumarine tunic of your (our) dreams, you CAN indulge in Italy lite by spritzing some Tom Ford Neroli Portofino in your cubicle, pouring yourself a San Pelligrino Limonata, ordering in some shrimp fra diavlo from Mulberry Street (Il Cortile's the best) and tell everyone to BACK OFF for one hour. You won't be sorry.
The Tom Ford Neroli Portofino collection includes:
The Eau de Parfum
The Body Moisturizer
The Shower Gel
The Body Oil
The Body Scrub
The Bath Soap
Tell me, dolls: Have you tried this scent?
Disclosure: Sample sent for editorial consideration
Like this post? Don't miss another one! Subscribe via my RSS feed.