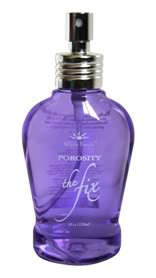 This week's giveaway is sponsored by White Sands. The brand has partnered with me to offer five of you one of their Porosity The Fix sprays, an amazing product that "fills in" porous, damaged strands leaving them gleamingly healthy looking. It's the next best thing to a haircut. To find out how to enter, read on…
There's only one way to enter and that's to "like" the Beauty Blogging Junkie page on Facebook. I'll choose a winner once we get up to 2,000 people who "like" the page. If you follow me on Twitter, but aren't a fan on Facebook, now's the time to remedy that situation. I'll choose a random winner from those who "like" the page once we reach 2,000. Tell your friends to "like" BBJ, your coworkers, whomever!
Best of luck!
P.S. Don't forget to check out the White Sands YouTube channel for how-tos on creating your favorite hairstyles.
Like this post? Don't miss another one! Subscribe via my RSS feed.