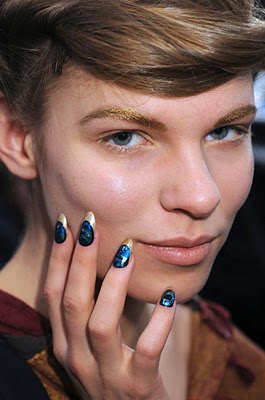 Poseidon paws!
Backstage at Jen Kao, CND nails by Kristina Estabrooks were inspired by organic, living things in the swampy depths of nature. Long, almond shape nails were based with Gold Chrome and Midnight Sapphire, and accented with drops of Gold Pearl, Iced Blue Shimmer, and Midnight Sapphire for a psychedelic stained glass effect. An almost aquatic quality took hold to match mind-bogglingly twisted hair, green metallic eye shadow and glittery bronze brows.
 I ADORE these long, swamp thing nails and all–but I'm into the glittery brows, as well. They remind me of an effect I produced myself in high school with this Lancome golden hair mascara (anyone else remember that?). Gleaming eyebrows are  a gorge gamechanger.
Are you into this look? Digame in the comments!
Like this post? Don't miss another one! Subscribe via my RSS feed.