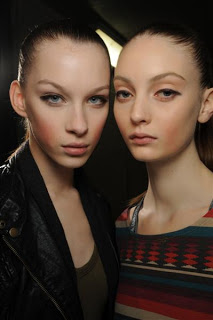 Economic downturns are downright depressing, but downturned cheeks and eyes, when created by the genius Francois Nars can be glamourous, if a bit drama-mask-inspired melancholic. NARS created the look for the Marc Jacobs 2011 runway show based on a blushed cheeks and defined upper eyes trend. To find out about the inspiration and look, read after the jump.
Inspiration and look:  Said Francois, "The look started with a picture that Marc had of Christy Turlington with really fresh skin and rosy cheeks," said François Nars, Founder & Creative Director of NARS Cosmetics. So Ted Gibson wasn't the only one this season with an inTurlitation! "Marc wanted 'icy cold cheeks' and so the blush is drawn down in such a way that's unusual…unusual, but decadent. Like a Renaissance painting."
* Concealer (NEW for Fall 2011; for now, try the existing Concealer)
* Lokoum Cream Blush
EYES
* Grand Palais Duo Eyeshadow (for now, try using Lokoum Cream Blush)
* Larger Than Life Long-Wear Eyeliner in Via Veneto (NEW for Fall 2011; for now try Black Moon Eyeliner Pencil)
* Larger Than Life Volumizing Mascara
LIPS
* Greta Pure Sheer SPF Lip Treatment
What are your thoughts on this? I also saw a pulled-down cheek backstage at Carmen Marc Valvo, stay tuned for that recap!
Like this post? Don't miss another one! Subscribe via my RSS feed.