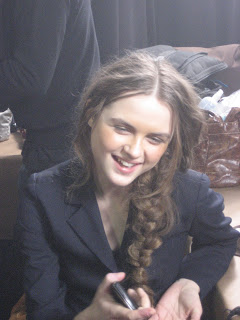 A boy-girl backstage at Band of Outsiders
A single look for a fashion show? Not for Band of Outsiders, where there were three beauty concepts: boy-boy, boy-girl and girl-girl. The boy-boys (who were actual dudes, we know this kind of gender-bender terminology gets confusing) donned their natural hair texture, the boy-girls wore long, side-parted side-braids, and the girl-girls boasted amped-up voluminous curls.
Makeup: Dick Page for Shiseido created a look based on what he called a "not quite tan but peachy rose color applied across the cheeks, sort of like a sunburn." The peachy rose color was streaked around the eyes, nose and cheeks almost in a Zorro-mask fashion. "I was more aggressive with it initially, then reigned it in," remarked Page.
Read the rest of my post on BellaSugar.
Like this post? Don't miss another one! Subscribe via my RSS feed.