This week,
Official Mascara Correspondent Ashleigh Cicucci
reviews a new gem from one of her favorite mascara brands, Maybelline. The review, in Ashleigh's words: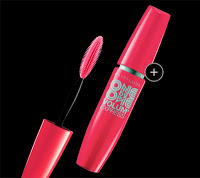 I'm a bit fan of
Maybelline
mascara (
Volum' Express The Falsies
is one of my faves) so I was looking forward to this one. Its small rubber football shaped brush is a great size for controlling the formula. 
With one application, i got soft and defined lashes because the brush doesn't hold a TON of product. I was able to get a good base layer built up on my lashes so that with a second coat, I was able to build an equally even amount of product. It dries relatively quickly, so you want to make sure to perfect one eye before moving on to the other. 
My lashes looked full at the roots and wispy at the tips. and you know love my afternoon touch-up, so I was happy to be able to get another good coat of product to boost my look for the evening. 
The one strike is that it needed more than soap and water to come off at the end of the day, but that alone wouldn't deter me from loving this one. I'd def buy this baby.
Like this post? Don't miss another one! Subscribe via my RSS feed.