Dudes (and math) are a mystery, but what to buy them for the holidays ISN'T. Here, the best gift sets for everyone from your father to your coworker to your significant other.
VitaMan Travel Kit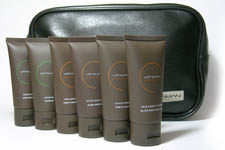 The perfect travel companion, this pack offers every grooming product necessary to keep dudes looking their best. The set includes 50ml tubes of the VitaMan Shave Cream, After Shave, Face Moisturizer, Shampoo, Conditioner, and Body Cleanser.  A bonus dopp bag houses everything so guys can stay groomed at the gym or on the road.
$99 at vitamanusa.com


Every Man Jack DIY Kits
Every Man Jack is a men's brand that's a standby in my BBJ Holiday Gift Guide year after year. It's so reasonably priced but effective and clean-smellingly fragrant. This year, you can create a custom "Totally Stuffed Toiletry Bag" by logging onto www.EveryManJack.com/holiday.  Choose five items from a dozen different hair, skin, shave and body products in a variety of fragrances including Signature Mint, Cedarwood and Citrus. And for the sensitive hombre there is a bevy of fragrance-free options to choose from.  Everything is packed in a premium duffel bag featuring a large main compartment, zipper side pockets, and smaller pockets on the outsides.
$25 (Gift Value $50) at EveryManJack.com
American Crew Shave Duo Gift Set 
When your dude is FAKAKTA unkempt, surreptitiously gift him with this inexpensive little gem. It contains a Precision Shave Gel, Post Shave Cooling Lotion, and a Stainless Steel Nail Kit which includes scissors, tweezers, nail file and nail clippers. 


$26 at mensroombarbershop.com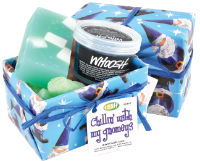 LUSH Chillin' With My Gnomies
Aw, doesn't the name take you back to Elton helping Tai at the Val party in the kitchen (Rollin' With The Homies)? So they're not exactly gnomes but blue-clad Santas, and they grace the wrapped box in which this natural set comes. It contains a Snow Globe Soap and a Whoosh Shower Jelly.
$15 at lushusa.com
What are you buying your boy for the hols?
Like this post? Don't miss another one! Subscribe via my RSS feed.