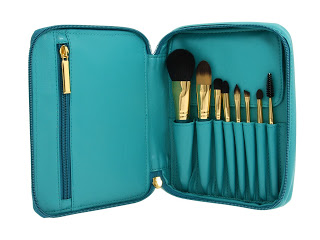 Sparkle, Neely, sparkle: This is the 2010 BBJ Holiday Gift Guide. For more gift-worthy items for everyone on your list, check out my other offerings.
 
I am SLAIN by the WHIMSY of this teal leather encased complete brush set by famed makeup brand Napoleon Perdis! The Napoleon Perdis Great Escapes Brush Collection from his latest Swept Away collection, which evokes the glamour of Australia's sacred coral reefs with its suite of vacation-themed beauty confections like Bronze Bombshell. The latter a bronzing duo of products for a heavenly glow.
But let's get back to these BRUSHES. In the paraphrased words of the epic Paula Abdul, "Brush, brush, hurry hurry lover, come to me." If you're not familiar with this high quality, spectacularly collectible brand, do yourself a favor and get INVOLVED. These brushes are soft, compact enough to be easily portable and enhance your makeup application. It makes an excellent starter set for a budding beauty addict or a covetable travel set for the more seasoned makeup maven. An incidentally? I've never met an Australian beauty brand I didn't LOVE. Jemma Kidd Makeup School, ModelCo and Becca are all to die, in addition to Napoleon Perdis, of course.
The Napoleon Perdis Great Escapes Brush Collection retails for $80.
Like this post? Don't miss another one! Subscribe via my RSS feed.