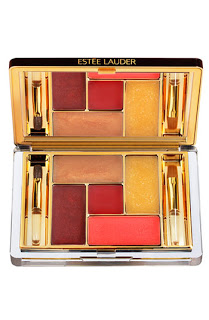 Sparkle, Neely, sparkle: This is the 2010 BBJ Holiday Gift Guide. For more gift-worthy items for everyone on your list, check out my other offerings.
This holiday confection from Estee Lauder screams Glamber's holiday lip concept from every gilded atom. This golden compact boasts five lip colors in varying opacities and finishes in pout-flattering shades of gold, wine, coral and brick red. I especially like to pair the matte brick red in the center with a touch of coral gloss on top for a retro beauty moment that pairs perfectly with my bare eyes (well, save for my Snuffaluffagus lashes). It somehow transforms my Cullen-sallow skin into a creamy, flawlessly rosy(!) complexion most magically.
Your recipient will use the shades for months to come and will appreciate the sophisticated berry flavor of the lip shades that's unique to Estee Lauder lip items.
Buy the Estee Lauder Extravagant Pure Color Lip Palette at Nordstrom.com for $42.
Like this post? Don't miss another one! Subscribe via my RSS feed.