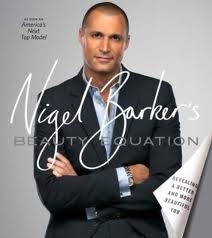 This morning, I attended a breakfast held at Citibabes, an NYC family club, where America's Next Top Model host Nigel Barker talked to a group of bloggers about his new book, Beauty Equation. As a former model himself and photographer, Nigel KNOWS beauty. And lord, is he stunning in person. This father of two shared his tricks about looking confident in photographs and how he keeps his skin looking fabulous.
In the book, Nigel shares his formula for revealing your inner beauty, enhancing outer beauty and feeling great about yourself. There are chapters on allure, confidence, compassion, spontaneity, radiance, health, honesty, charm, energy and humor. Along with plenty of tips on fashion, style, hair and makeup. In the book, he also discusses his genius trick for summoning confidence both in himself and in his photography subjects. "I tell models to imagine they've just won an Olympic medal. I say to envision how happy they feel, after training for hours each day for ten years–just waiting for this moment. Inevitably they'll stand up a little straighter and exude a different air." It's temporary of course, but it's long enough for him to get his perfect shot.
How does Nigel keep his own skin in excellent condition?  He's a fan of Clinique Skin Supplies for Men Cream Shave ($12 at Nordstrom.com). He confessed to drinking a strange amount of water–three liters a day and interestingly, doesn't always wear moisturizer. "I've even been known to slather some of the hotel body lotion on my face," the charming Brit told me in a low, conspiratorial tone.
Like this post? Don't miss another one! Subscribe via my RSS feed.