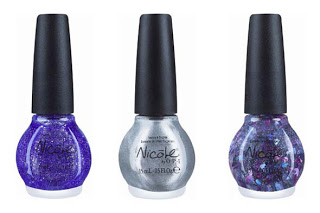 Nail polishes from Justin Bieber's One Less Lonely Girl collection from Nicole by OPI. Nicole by OPI
In what must be the most bizarre celeb-beauty brand partnership in Glamerica, Justin Bieber has teamed up with Nicole by OPI to design for a collection of nail polishes, according to AOL's Stylelist. Yes, the Bieb will be "designing" a line of polishe.  The colors? Oh, you'll love these syrup-y monikers: One Less Lonely Glitter (lavender), Prized Possession Purple (grape), Give Me the First Dance (silver), Me + Blue (dark blue), OMB! (bright red) and Step 2 the Beat of My Heart (heart-shaped glitter). The first six shades will be available in December.
Like this post? Don't miss another one! Subscribe via my RSS feed.