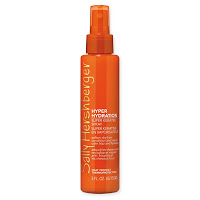 It's been a while since we've had a tip from fortress of follicular finesse Mathew Fugate. Matthew has a compelling knack for magically making my hair look longer post-cut and that is one of the major reasons we are engaged in a monog haircut relashe. I've sent no fewer than 20 of my friends to him. In fact, I was in a wedding this weekend with my gal Zoe who'd recently journeyed to his station at Sally Hershberger Downtown for his glamazing keratin treatment. So how can you make your hair look longer at home, even post-trim? What is this sorcery of which I speak? Read on.
Says Matthew, "When blow-drying your hair, be sure to keep the lower half of your hairline (from the ears down) very sleek and straight while infusing the top layers of hair with volume." I like to use a Mason Pearson for the bottom area and a Moroccanoil Ceramic Ion Brush for the rest of my mane. I also took Matthew's product suggestion of Sally Hershberger's Hyper Hydration Keratin Spray ($12.50 at ulta.com) for an at-home shot of health to reboot my wilting keratin treatment from May. And know what? It works so well to repair and nourish my strands sans weighing them down.
Check out more of Matthew's tips in my Mattification of the Nation series.
Like this post? Don't miss another one! Subscribe via my RSS feed.