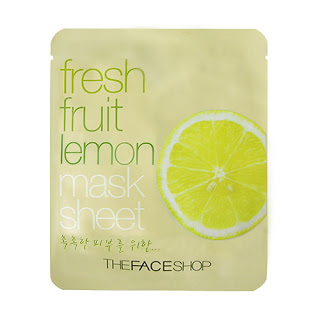 The Beauty Product from Another Country I'm Irrationally Obsessed With column features international beauty gems that cross my path about which I feel you, the reader, are on a need-to-know.
The Face Shop is a Korean brand I discovered on a trip to Spa Castle (I don't even have TIME to get into the hilarity and yet necessity that is SC–will delve further in a future post) with Heather, Dina and Jamie last year. We were in Flushing, Queens and found ourselves in this glamazing Korean beauty shop filled with skin care, bath and body and makeup delights from the far east–and everything was in the $2-7 range. Whaaaaaaaaaaaaaaaat? I stocked up on everything from nail polish to a blackhead-removing mask to uncontrolled amounts of Hannibal Lecter-style (in the words of my gal Andrea Lav) sheet masks.
I've since learned there's a joint in Koreatown in Manhattan which sells these little cheap-as-heck skin-care jewels and I have GOT to hit it up for some more of their Lemon Mask Sheets. The very ESL, yet very hilar copywriting on these items boasts a casual relationship with English grammar and there's nearly always a reference to whitening. But my skin feels sumptuously smooth and silky post-application. The hyaluronic acid one is also quite spectac.
I keep telling Moshida Man to bring some home by the boatload from his teaching gig abroad in K-land. Have you tried this brand? And tell me: What are your Asian skin care brand obseshes?
Like this post? Don't miss another one! Subscribe via my RSS feed.