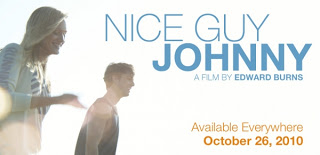 Ed Burns keeps it real.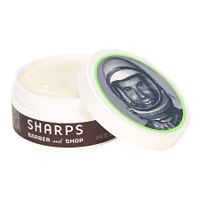 I know because I had a CONVERSATION with the incredibly humble writer/actor/director earlier this week at a screening and Q&A for his new film Nice Guy Johnny, which comes out on October 26. I obviously debated wearing a prom dress to this fortuitous event. The Ed conversation started with, naturally, his impressive head of hair and what he uses to keep said hair looking groomed, but not stiff, as his fellow follicularly-blessed Long Island natives' hair concepts can skew. He told me he gets his hair cut at Tortola Salon in TriBeCa and uses Sharp's Barber and Shop: Mission Control Gluck in a Puck. He also keeps his skin looking fantastic with Sundari Neem Night Cream. Ed is so ragingly male (in that refreshing-like-cilantro way) that he couldn't even remember what the name of said product was and had to email his wife (you've heard of the legendarily symmetrical Christy Turlington, right?) for the name of it. He was very down to earth–so much so that he could easily be the super fun (yet super handsome) dude at work you like to joke with by the coffee machine.


During a Q&A with Ed and gorge actress Kerry Bishé, who plays Brooke in the movie. 
She told us in the Q&A that she even rocked a lot of her own clothes in the film and was unbelievably sweet and personable. I expect to see her in a ton of stuff in the coming years because of her incredible talent and real disposition–she can even do a pretty on-point Ed impression. 


Some deets on the movie? The film, which was shot for $25K in ten days looks like it cost a hundred times its budget. It tells the story of Johnny, played by Matt Bush, a New Yorker living in California with his fiancée. The marriage is fast approaching, and Johnny is barely making ends meet working the graveyard shift as a sports talk DJ at an Oakland radio station. On a weekend visit to New York, where he's planning on interviewing for a boring, better paying job that his fiancée wants him to take and that has been set up by her father, he ends up spending time hanging out on Long Island with his Uncle Terry, played by Ed, who's not a big fan of the upcoming marriage or the boring job offer. Terry introduces Johnny to the beautiful tennis instructor Brooke, played by Kerry Bishé, and the movie takes off from there. Check out the movie's Facebook fan page.


Dina and I had the opportunity to snap this pic (above) with Kerry and Ed before we left. Needless to say, it's my new favorite pic.


Nice Guy Johnny will be available for download on October 26 here.Yay for digital distribution!


Like this post? Don't miss another one! Subscribe via my RSS feed.