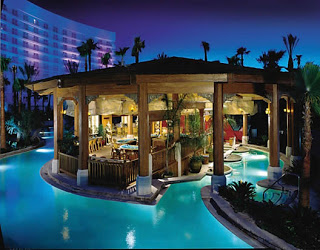 I'm not exactly a "Vegas person," though Vegas comes into my lifestyle fairly often in the most roundabout ways. I was there just this past Memorial Day for my friend Mitch's wedding. Before that, I was sent to oversee a conference for work years ago and before that I went on my inaugural trip to celebrate my friend Leah's 21st. I've stayed in different hotels each time–the Aladdin, the Paris, THE Hotel at Mandalay Bay and this time, the Hard Rock. I'll be headed there this Sunday for the It&ly Hair Show.
Designed for the younger party set, this abode boasts many a club, the most famous of which is called Rehab. I may or may not have watched some episodes of the true ridiculosity that was TruTV's Rehab: Party at the Hard Rock, a reality show that showcased bikini-clad partiers spending inordinate amounts of money to drink by the hotel's storied poolside bar. I'm interested to walk amongst the lean and mean clientele who manage to eschew delish food at such fine dining establishments "on campus" as Nobu and Pink Taco, both of which I'm psyched NOT to eschew.
You know I'll provide a full video-review of my room's amenities and product offerings, as well as feature my items that I packed along with me. Until then, I will continue to say Vegas, baby in the manner of Swingers' Trent to my fellow travelers Aly and Patrice.
Like this post? Don't miss another one! Subscribe via my RSS feed.