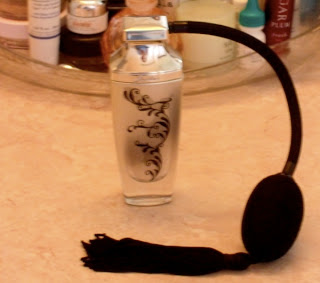 The What's On Your Vanity Series showcases a single beauty item a blogger loves because it's effective, but also she feels she must keep out on top of her vanity because the gorgeous packaging must be displayed.
Nancy (Nance, as I like to call her) writes one of my fave beauty blogs, Beauty 411. Nance is HILARIOUS and knows a thing or two about skin care. Her honest, straightforward reviews boast a decidedly clinical approach that let you know you're dealing with a thorough lab test complete with a hypothesis, control and report. I asked Nance to furnish me with a little snapshot of what's on her vanity. In the words of Nance:
You asked me to send you a picture of what is on my vanity and as you can see from the pic, I have a LOT of things going on!  My most special product, though, is Guerlain Sublime Radiant Powder Face & Body.  Not only is the bottle retro-gorgeous, complete with atomizer, but the powder is amazing.  It sparkles like a veil of a million diamonds on your skin.  And whether it's for holiday or on tan skin, it's a showstopper.  It was part of the Guerlain 2009 Imperial Holiday Collection and it's one of my most treasured products, just for the sheer beauty (a reason that Guerlain is one of my favorite cosmetic brands).
Like this post? Don't miss another one! Subscribe via my RSS feed.