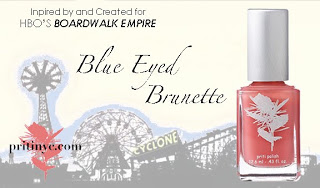 The highly anticipated new HBO series Boardwalk Empire (have I mentioned my irrational love of Atlantic City?) premieres September 19 and with it comes the official debut of Priti NYC's "Blue Eyed Brunette" shade.
Directed by Martin Scorsese and starring Steve Buscemi, Boardwalk Empire tells the tale of New Jersey in the 1920's at the dawn of Prohibition. Blue Eyed Brunette will be used on the show's female characters to compliment the vibe of 1920s fashion on the Atlantic City boardwalk. Inspired by and reminiscent of the era, the shade reflects both the buoyant mood of the swinging 1920s and the subdued mentality of the Great Depression that followed soon afterward.
Looks like a very on-trend hue, considering how many peachy polishes we saw on the Spring 2011 runways. Will you watch the show?
Like this post? Don't miss another one! Subscribe via my RSS feed.