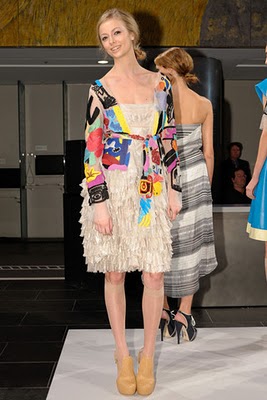 The final look. Photo: Elle.com
After a few years of covering beauty backstage at Fashion Week, I'm spilling all my secrets about how I choose which shows on which to report. As I mentioned, I like to be invited to the champagne party at Betsey Johnson's. I like to be comforted by the calming Ted and Romero mid-week at Carmen Marc Valvo–they usually invite me (most hospitably) to have a seat when I'm interviewing them. I like to be entertained by the saucy Kevin Ryan, hair stylist at Tibi.
Why do I cover Chris Benz? I love me some Chris Benz, both the designer and the line. Chris doesn't use an "inside "designing voice, which I like. His colors are always evocative of a Rainbrow Brite who has effectively foiled antagonist Murky. Love the designs, love that he has no qualms about drinking a juice box at his own presentation. But mostly? I make it my BIZ to report on this one because of my colossal crush on stylist John Ruidant, who partners with Redken season after season on this show. Redken publicist Heather Dillow and American Salon editor Lori Morris are so aware of the fact that I turn into a modern Lorraine McFly (from BTTF, circa her high school years during which she pronounced everyone DREAMY) that they give me hilarious side-long glances during what I try to make a professional interview. (John is happily married, for the record.) But I (seriously) digress.
John Ruidant creating the look
John Ruidant is always concocting something very complicated, which gives me a good excuse to actively interview him twice–you know, to make sure I got it. And he's always very zen whilst explaining this ridic complicated hair sculpture he's even DOING as he explains it. Like he's discussing string theory while casually spraying and curling strands of models' hair. The inspiration: A French singer in the '60s riding her Vespa around Paris. The look is all about a deep side-parted low-slung deconstructed bun which sticks straight out from the nape. To start, John used Redken Rootful Spray and blow-dried with a round brush. He then split the hair into two sections–from ear to ear, front to back. He back-combed the back section at the crown and the roots and secured a low pony with a free elastic. He then back-combed the pony, sprayed Redken Workforce Hairspray, before smoothing over the top a bit with a bristle brush. Next, he twisted it, coiled it, pinned it up into the middle of the pony to create a chignon before deconstructing it a bit. Pins were inserted to cause tension, allowing the chignon to stick straight out before setting with a bit of Redken Quick Dry Hairspray.
Eileen Clarisonic-ing a model

Eileen Harcourt, Clarisonic's aesthetician told me that skin was prepped with Clarisonic Facial Brush to clear the palette, even the brow and lip area, to help the products go on more easily. They followed up with the Opal to apply Clarisonic Marine Serum, which uses a kneading action to allow it to go into the skin, as opposed to sitting on the surface.
Lancome's new Violet Groove shade (bottom)
Daniel Martin for Lancome created a look inspired by a tarty French singer. He "primed" the lid with white pencil (in Le Blanc, like Matt) used all over the lids, then put some lilac shadow (from the Color Design Minerale Quad in Tulle Lavande from the Spring 2011 collection Ultra Lavande, due out in January) all over it, before lining the top lid with black liquid Artliner. The line on the bottom was stippled onto the bottom for a loose Twiggy eye interpretation. "Because of the sheen in the shadow, the opaqueness of the pencil manipulates the effect into a sort of frost," explained Daniel. The rest of the look included fresh skin, sculpted cheek, fleshy-colored lip created with Lancome L'Absolut Rouge in Lily Rose, due out in January as well. "There's so much '60s inspiration this season, so we just wanted to make it fun with a subtle twist," said Daniel. Julia Restoin-Roitfeld will be the face of the Ultra Lavande collection, so stay tuned for what I'm sure will be gorge photography. 
Nails were polished with a SPESH creamy medium violet Lancome shade called Violet Groove by madame of manicures Lisa Logan. The bottle it comes in is delightfully compact, because really–who wants an enorm bottle of polish? She brushed on two coats, though the color has such great pigment pay-off, you could even get away with one.
Images: elle.com, BBJ, Clarisonic, thelancomeblog.com
Like this post? Don't miss another one! Subscribe via my RSS feed.