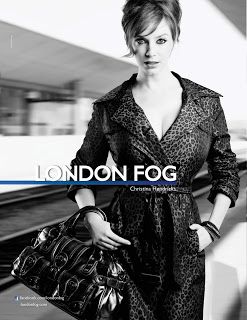 Brings new meaning to the phrase, "Make it rain on them hos," to quote the selected musical stylings of Fat Joe.
 
Christina Hendricks will appear in London Fog® brand's fall marketing campaign. Christina was recently named "Best-Looking Woman In America" by Esquire magazine. The marketing campaign will debut in October issues of mags like Elle, Cosmopolitan and InStyle.
It's inspiring me to will it to rain.You know, more.
Like this post? Don't miss another one! Subscribe via my RSS feed.