The Luxe Capacitor series includes pricier items that really deliver. You know. Products I'm recommending for a little indulgence even In This Economy (ITE, as Carmindy says). Because, can't we all agree that a little beauty luxury goes a long way? Luxe Capacitor, BT dubs, is obviously a shout-out to my fave movie of all time, Back to the Future's Flux Capacitor.
Gosh, gals, sometimes I'm so SELFISH. I've been quietly enjoying a Valley of the Dolls worthy cat-eye and it plum just occurred to me that I hadn't told you with what I'm creating it. Do forgive me. Now I'm a firm believer that you can go drugstore for liner, but that doesn't mean there aren't some gems worth the investment. Here are two that are blowing my hair back of late:
La Prairie Luxe Eye Liner Automatique ($50)
 Yes, it costs the earth, but you'll feel better about it when I tell you WHY this La Prairie item is vital in my lifestyle. Each liner comes with a full refill, so you actually get two for the price of one. The glide on this baby is genius. With minimal effort, you can craft a cat eye like it ain't no thing. The other end boasts a sponge which creates a smoky eye effect flawlessly or simply smudges your line handiwork a bit so that it's more natural. I'm partial to the Granite shade.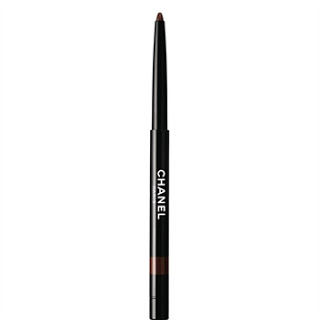 CHANEL Stylo Yeux Waterproof Long Lasting Eyeliner in Cassis ($28) is from the CHANEL Beaute Fall 2010 Collection. This deep plummy shade shapes my green peepers perfectly and lasts all damn day, even in the 99-degree weather we endured last week. This finer liner even includes a sharpener at the opposite end, which detaches for quick refreshes.
Are there any liners you can't live without?
Like this post? Don't miss another one! Subscribe via my RSS feed.