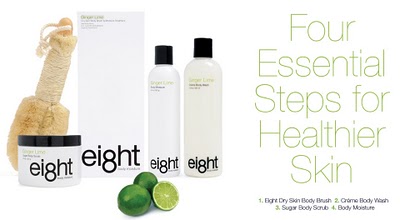 My body cleansing/exfoliating/moisturizing ritual has experienced a coup, thanks to Eight Body Moisture's heavenly-scented Ginger Lime line. The suite of products also comes in a Lavender iteration as well, but trust me on this: The Ginger Lime scent is rigorously warm, clean and inviting, yet dissipates over time so that it doesn't compete with your perfume. Isn't that considerate of it? To me, it's the olfactory equivalent of cilantro–briskly refreshing.
Before we get into the virtues of Eight, let's go over its backstory. Founder Vicki Weaver-Payne's mother, a real Rosie the Riveter, worked in an airplane hanger at Tinker Air Force Base in Midwest City, Oklahoma. She developed a body moisturizer to combat her dry skin that resulted in working in the factory all day during the war. At the time, she created and mixed the lotion in their kitchen sink, put it into milk jugs and shared it with neighbors and friends.
Getting gleamy, hydrated skin of your own can be achieved in four steps. First, you use the Dry Skin Body Brush, an apparatus that frightened me until I tried it. It's all very Bridget Jones preparing for the launch of Kafka's Motorbike–you sweep this over dry skin pre-shower in long strokes. Down toward your heart on arms, up toward your heart on legs. Circular motions on your tummy. Avoid face and breasts. You can actually SEE flakes of skin fleeing from your lifestyle. Do it on your forearms while wearing a black shirt–you'll be horrified. Its benefits include cleaning the lymphatic system and aiding digestion, among others. Next, jump in the shower and soap up with the Cream Body Wash ($21), which hydrates while cleansing. Then, turn your shower head toward the wall while you scrub up with the Sugar Body Scrub ($21) which has just the right amount of oil. Vicky told me herself she formulated it precisely so that it doesn't cause slips and falls in the tub, which I've found to be true. Lightly towel dry and smooth and slather on some Body Moisture to lock in moisture for HOURS.


I rock the dry brush/scrub combo twice a week, but Sahara-skinned gals could enter the nation of exfoliation daily, per Vicky. It primes my skin perfectly for my self-tanner. This body moisture method deserves a Joan Rivers-style extended arms clap (she does a perfect example of it at the end). 


How are you attaining sexy summer skin?
Like this post? Don't miss another one! Subscribe via my RSS feed.