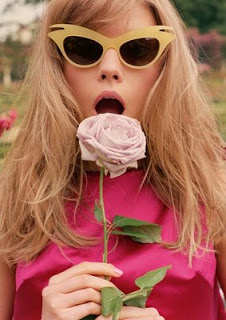 I know the ad came out over a year ago, but I confess: I'm STILL thinking about the Miss Dior Cherie girl's BANGS. And her wardrobe. And her lifestyle. And her ability to rock flirty teeny dresses whilst munching on pain au chocolat. And even that sexy French dude she's smooching.
But mostly her bangs.
It WAS my personal belief that blondes don't look as fabulous with bangs as do brunettes. Exhibit A: Zooey Deschanel. When a blonde rocks bangs, they can't be blunt without calling to mind the worst blunt blonde bangs in hist–those of Suzanne Sommers' character in Step by Step. Don't act like you don't remember. But the Miss Dior girl changed my tune because she proved that blonde bangs can be beautiful with one small nuance easily achieved–a teensy bit of flippy curl at the ends.
For the longest, I was employing a curling iron for this task, until I tested out a new flat iron I was sent (Salon Tech's Silicone 450 1″ Flat Iron –$200) and found it works so much better for bang-flipping. First, it gets hot in a mere minute–up to 450 degrees. Second, one quick pass and a flick of the wrist gives me Miss Dior's bangs, stat. It boasts an automatic shut-off system that's smart enough to know you haven't used the device in 30 minutes. But here's how it really differentiates itself from the competition: It contains three conditioning silicone bars directly embedded in its ceramic plates, so that your hair is conditioned and sealed every time you pass a section through the iron.
In short, get involved. Oh, and in case you forgot about the epic commercial:

Disclaimer: A sample of the iron was provided for editorial consideration
Like this post? Don't miss another one! Subscribe via my RSS feed.