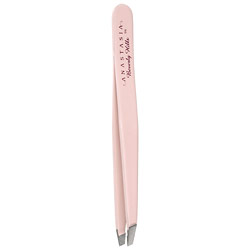 So, a couple weeks ago, I'm in the Philly 'burbs, chillaxing with my fam, S.S. Fair and my BFF since Kindergarten, Lee, at my belated family birthday party I share every year with my dad, whose birthday is the next week after mine. Later, Lee and I are driving back from dropping S.S. off back at her brother's house in the Main Line, when I notice she has a pair of tweezers in her car.
"Oh!" she exclaims. "That's for when I have to go to Tweezertown." I mean… have we met? Obviously, I'm loving this nomenclature. "Tell me more!" I shriek. "You know," explains Lee. "It's for those times when you mysteriously grow a random hair somewhere on your face that's unacceptable." Know it? Sometimes I'm the town's mayor. 
My favorite vehicle with which I sojourn to Tweezertown is Anastasia Tweezers. I keep multiple pairs around for when I'm suddenly called to the municipality–one in my desk at the office where I freelance, one in my travel makeup bag, one in my purse. Yes, they're a bit spendy. They are bar none the best tweezers I've ever owned. The Italian-made gems are perfectly slanted so that you can extract even the most stubborn offensive hair. They grip with the precision of a Swiss timepiece and yet, never cut the hair in question. These suckers boast calibrated tension, so the springiness yields plucks with less pain. Previously, I was a believer in drugstore tweezers. I'd long been rocking a pair of LaCross ones that did the job, but alas, now I can't go back. Fancypants tweezers, friends. It's the most direct route to Tweezertown.
Definitely obtain one in one of Anastasia's kits; it's far more economical. A la carte, Anastasia Tweezers retail for $28.
See y'all in Tweezertown.
Like this post? Don't miss another one! Subscribe via my RSS feed.