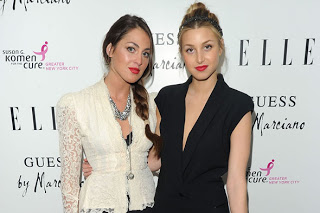 I've been wondering for a DOG'S AGE what kind of red lipstick The City's Roxy Olin has been wearing on the show. I thought her makeup concept in last night's episode rocked. Well, thanks to my girl Eileen, we have the answer. Eileen asked her on Twitter, I RT'd and said I was on a need-to-know basis as well and Roxy responded: "I wear Mac red or Dior Addict (Rouge Podium Runway Red)." I've asked for clarification on exactly which MAC red–to my eye, it looks like Ruby Woo. I'll update here, should I find out.
Are you a The City watcher? Whose makeup blows your hair back on the show?
Like this post? Don't miss another one! Subscribe via my RSS feed.