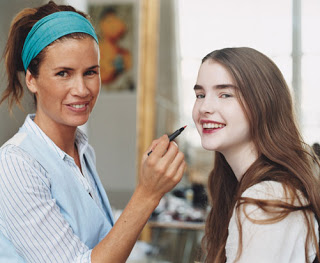 Jones New York recently celebrated the brand's 38-year history of dressing women for success in each of life's moments. As part of the festivities, Jones New York's fall campaign is all about Empowering Your Confidence. The campaign began with exclusive photography session in Grand Central Terminal with Annie Leibovitz a couple of weeks ago. The famed photographer shot the modern American woman, aiming to capture the spirit, strength and beauty of working women. I had the opportunity to interview with makeup artist, Gucci Westman, who, with Annie, was one of the many talented collaborators to help shape this campaign shoot.
Beauty Blogging Junkie: What can you tell me about your work on Jones New York's Empowering Your Confidence campaign?
Gucci Westman: I just think campaigns like these–focusing on women and empowerment–are so cool to be a part of! I love anything that has to do with encouraging women and helping women get out there, finding their way and knowing they don't have to sit at home. It's not like 50 years ago. Now, we can be the breadwinners and it's cool, and it's okay. We have so many powerful women that are incredibly inspiring and it's nice to not stop yourself and just go for it. Life's short, might as well give it a shot!
BBJ: What is your desert island makeup product?
GW: Probably sunscreen. And, I mean, you're screwed if you don't have lip balm.
BBJ: What fabulously packaged beauty item do you love to keep out on display instead of putting it away?
GW: A Cartier watch box.
BBJ: What is your mascara technique for fabulous lashes?
GW: Begin at the roots and brush up in the middle and then out. Do the same in the corners and the bottom- brush from the root in slow, gentle strokes up.
BBJ: What has been the most rewarding thing about your work thus far?
GW: As a young makeup artist who had a dream, I never knew how lucky I would be to work with incredible, talented people like Annie Leibovitz, Lori Goldstein and the Jones New York team. Being able to contribute to the Fall 2010 campaign, and be on that level, I didn't know that would be possible! But, I had a dream. Fifteen years ago I wrote down the names of everybody I wanted to work with, and I've worked with everyone! There's definitely a little luck, good timing, talent, a little bit.
Thanks to Gucci for sharing her tips and experience at the shoot!
Like this post? Don't miss another one! Subscribe via my RSS feed.