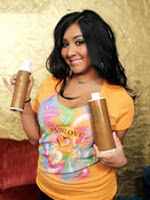 Did you catch Jersey Shore's Snooki spritzing herself with an at-home tanning apparatus during the 10-minute preview of season 2 of the show? You know my eagle eye  recognized that tanning device: Sunlove XOXO. Sure enough, Snooki's mug is smack on the website. Rumor has it, she took a little vaca from fake baking thanks to the new tanning tax.
Seems to be doing its job, n'est-ce pas?
Advertorial: directv
Like this post? Don't miss another one! Subscribe via my RSS feed.