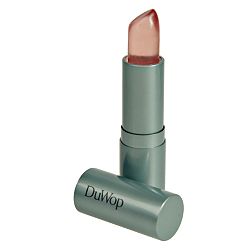 The other day, I was at Tamar's when I caught sight of this candy cosmetic confection–the DuWop IcedTea Lip Treatment in White Peach–on her desk and creepily involved myself by busting the cap off and getting all up in its grill. When it comes to something beauty-related that I've never seen before, manners fly out the window. "Oooohhh!!" I gasped as I realized this stick of glossy greatness was a CLEAR peach-flavored treatment. It isn't especially hydrating, nor does it impart any color, but tastes DIVINE and makes lips appear slightly lacquer-y, which is always a good thing. Its white peach flava-flave packs a powerful fruity punch that quenches my thirst for a summer slick lip treatment with taste.
Tamar offered to GIVE me hers and heathen that I am, and despite the fact that I'm literally drowning in LIPPIES, I took her up on it and pocketed that shiz. I COULD NOT resist. I know! It's shameful. But I had to OWN it. The choice was CLEAR, literally AND figuratively. Thanks, TAMZ.
The DuWop IcedTea Lip Treatment retails for $19 at beauty.com.
Like this post? Don't miss another one! Subscribe via my RSS feed.