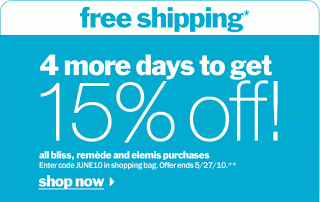 Just got word about a 15% off sale at Bliss!Take advantage at blissworld.com.
In other news, Losties, are we dying over last night's series finale of LOST? I'm still digesting it, and will provide my thoughts on it once I get a handle on my feelings. For the moment, I'm feeling that it didn't really work for me. While I believe there was truth to it and it was incredibly poignant–it just didn't feel RIGHT. What are your initial reactions?
Like this post? Don't miss another one!
Subscribe
via my RSS feed.