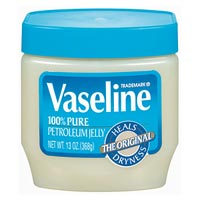 The What's On Your Vanity Series showcases a single beauty item the interviewee loves because it's effective, but also she feels she must keep out on top of her vanity because the gorgeous packaging
must
be displayed.
I've long considered E. Jean Carroll my "quiet mentor." Quiet only in the sense that I've never met her (not yet, anyway!). I love that not one ounce of her vitality is lost in the transition from her being to her words in the pages of her many fabulous books and her Ask E. Jean advice column in ELLE.  I am a person who loathes authority (hence my newly-established freelance lifestyle) and rarely imitates others, but E. Jean's career is one I'd mimic hook line and sinker. I'll just SAY it: I want to do everything E. Jean does. This genius wordsmith was once a writer for SNL and wrote a biography of the epic Hunter S. Thompson. In addition, she's quite the social media innovator. She's an active Tweeter and Facebooker in addition to having her own site, advicevixens.com, an experiment in the ways people give and receive advice. Anywho, she was a natural choice for the vanity series, as you could say I'm mildly obsessed with her. I recall her admitting in a few of her books (which I own all of) that loves her some Vaseline and that she "slathers [her] entire self in the stuff nightly." As such, it's What's on Her Vanity. In the fabulous words of E. Jean Carroll:
My most beloved on-my-vanity, on my bedside table, on my desk, on my kitchen sink, on my bookshelf, on my end tables, on my bathroom sink, on my picnic table outside in my Hydrangea patch, on my Prius dashboard—-is the Balm of the Gods . . . Vaseline. I slather myself in it day and night. The packaging—the elegant Royal Blue-shading-into-Aqua, the vermillion red lettering stating so poetically that it "protects minor cuts, scrapes and burns," and the dramatic conclusion in black: "Moisturizes to Heal Dryness"—-is probably the most beautiful product ever featured on the lovely BEAUTY BLOGGING JUNKIE. 
Hyster!! Thanks, E. Jean! Stay tuned for more What's On Your Vanity!
Like this post? Don't miss another one!
Subscribe
via my RSS feed.