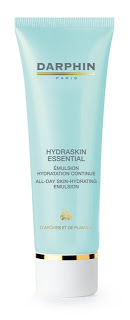 My gals Sarah D, Erin R and Erin's R's mom, Patricia are going to love this news. Each is a MAGE Darphin fan and all three are always on a need-to-know basis regarding the latest news from the brand. Here it is, dolls!
They're hosting a giveaway: Tell Darphin YOUR $50 luxury and you'll have a chance to win THEIR $50 luxury at www.50littleluxuries.com.The brand launched the micro-site dedicated to discovering ways to make a $50 investment feel like much more. Embracing the web and the power of social media, the site will support Darphin's launch for spring: Hydraskin Essential, a fresh-smelling facial hydrator that smells like a springtime GARLAND at a pretty reasonable $50 price point.
From now through April 21, the most creative and realistic 50 responders will win a bottle of the new product. These 50 winners will then be eligible to win the grand prize–a New York City Spa Getaway. The grand prize winner will be announced on May 1. The grand prize winner will receive:
2 round-trip transportation
2 nights at The Surrey Hotel
2 Darphin signature spa treatments at The Spa in The Surrey Hotel (I got a tour the other day and it is TRULY fabulous–both the spa AND the hotel)
Dinner for 2 at the renowned Cafe Boulud
Best of all, for every submission Darphin will donate $2 to the Ideal Providence Farms to purchase school supplies for children in Ghana.
Want to know my $50 luxury? Buying some damn pre-cut fruit from Fresh Direct. Here's the thing: I've mentioned that I define "efficiency" as anything I can do whilst on my computer working. So in 2010, I haven't been eating, like, any fruit or vegetables. For a long time I thought buying pre-cut fruits and vegetables was FAR too indulgent. And expensive. Because it is. To buy the stuff yourself and cut it up is about half the price. But since washing and cutting fruit is something I can't do while I work, I simply don't do it. Buying it ready-to-eat is more cost effective AND efficient as otherwise, the untouched not pre-cut fruits/veggies I've been buying end up spoiling and have to be thrown out. How cost effective is THAT? Not very, friends. Not very. So my $50 luxury is the $50 I spend for the month on pre-cut fruits and veggies from Fresh D.
So maybe my $50 luxury is lame… but perhaps yours isn't, so tell it to Darphin and enter to win!
Like this post? Don't miss another one!
Subscribe
via my RSS feed.
Disclosure: A sample of the product was provided for editorial consideration.