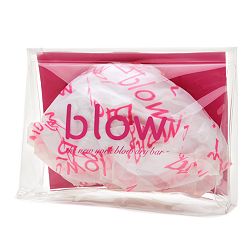 The What's On Your Vanity Series showcases a single beauty item a blogger loves because it's effective, but also she feels she must keep out on top of her vanity because the gorgeous packaging must be displayed.
Aly Walansky ALWAYS employs perfect grammar and usage. Blogger extraordinaire, this gal is always ready for tuna on a cracker and a delish martini (the beauty event "dinner") and frequently has an amusing anecdote for me. When she's not jetsetting all over this bitch, she's one of my fave beauty industry regulars. Last week she was in Cancun! But that didn't stop her from sharing What's On Her Vanity. Check it:
For me, one thing that I always have accessible – and take with me EVERYWHERE I GO – is Blow's Perfect Shower Cap My hair is an ordeal to style, and I like to stretch my blowout for as long as feasible (without becoming offensive!) This shower cap is over-sized and terry-lined, so I don't get that situation where stray hairs fall out and ruin my blowout anyway, but I also love it because it has that awesome retro bouffant look to it. Isn't it adorable? Pricey for a glorified baggie? Yes. But I'd much rather have this forever than a lifestyle supply of $2.99 wastes from the drug store.
Like this post? Don't miss another one!
Subscribe
via my RSS feed.