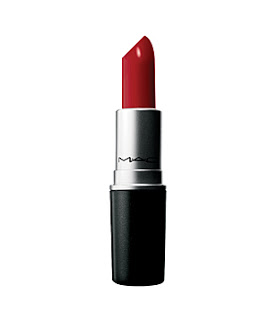 The What's On Your Vanity Series showcases a single beauty item a blogger loves because it's effective, but also she feels she must keep out on top of her vanity because the gorgeous packaging must be displayed.
 
Felicia Sullivan gives me a run for my neologism money. Can that gal ever coin a phrase. I've had to beg her permission to have joint custody of "never again tour 2010" in exchange for "spesh." Because that's just how it's done. In addition to her fabulous blog, I love her incredibly well written novel The Sky Isn't Visible From Here. Not an easy read by any means, but incredibly poignant. She's truly one of my favorite writers. She's real and talented as all get out (you'll see, even in the short snippet she wrote below). And boy does she know how to rock a red. With that, I give you Felicia's fave product, in her words: 
Without a doubt, it's MAC's Russian Red.
In the sixth grade, I was a spectacle. I stomped up to the courtyard of I.S. 88 sporting brown and green eyeshadow. My eyes were a massacre of this odd convergence of color, and when my friends howled and laughed and shook their heads, I wiped off the shadow with the edge of my sleeve and swore I'd never wear makeup again. Until the cruel grunge decade of the '90s where brown lipstick, brown shadow and morose flannels were the collegiate rage. I've never quite found my way with makeup–the litany of brushes, the complexity of application and the dizzying array of options confound and confuse me, and I often find myself in Sephora with an intense feeling of vertigo.
Enter MAC's Russian Red. You always remember your first, an as soon as I rocked this lip color I was forever transformed. I'm fair with dark hair and the contrast was striking, and gone were the desire for shadow application and cream blush layering for I had found power in a pout. From the sleek, minimalist packaging to the intense, saturated matte color with deep blue undertones, Russian Red is perfection personified. And whether I'm jetting into a morning meeting or baking with friends, I feel confident donning a bold, red lip.
Like this post? Don't miss another one!
Subscribe
via my RSS feed.