My coworker Megan McIntyre edited this guest post from hair maven Danilo all about how he achieved the crazy hair Lady Gaga rocks in the Telephone video with Beyonce. Check it: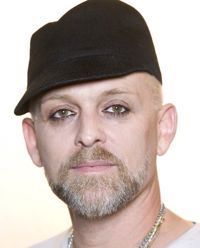 Think you can't recreate the looks of your favorite celebs? Think again. Guest editor, celebrity hairstylist and Pantene global ambassador Danilo shares his best beauty tips on how to score the hairstyles you love, straight off the red carpet. Danilo has worked with some of the biggest names in Hollywood, including Gwen Stefani, Anne Hathaway, Penelope Cruz, and many more.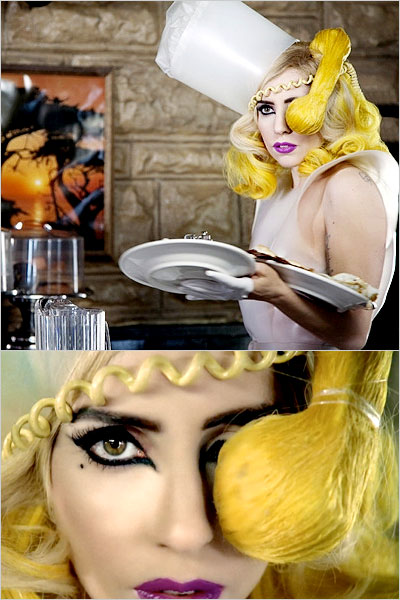 Photos: © Interscope Records
I had the pleasure of designing and styling Lady Gaga's hair for her new Telephone music video. We shot the video two days before the Grammys and the only thing on my mind at that time was Lady Gaga. When I arrived on the set at 4 a.m. I just knew it was going to be an aggressive two-day shoot. Most videos take several days to shoot and we were producing a mini-movie in 48 hours! That should give you a pretty vivid mental picture of all the madness that went on.

Shooting over the next couple of days was a lot of fun because there was so much creative freedom and diversity in the looks I would be designing. I created 8-10 different styles on her, taking inspiration from everything around me, including the intricate set design, the elaborate costumes and none other than the queen monster herself. If you've seen the video you've seen all of the outlandish elements involved, like the sunglasses embellished with cigarettes. Watching the stylists try to glue them down and keep them lit was quite a sight! We all had a ball with this one.
Lady Gaga has an incredibly unique style and such an amazing energy. She has a vision and opinions, but she doesn't get stuck on one idea and she really works in the moment. Just to give you an idea of what I mean, after the first take of the jail yard scene, we were watching it on the TV screen and she decided she wanted to throw a hair bow on one of the inmates quickly before the next take. I literally created one in under five minutes. It may sound hard to believe, but I'm a true believer that pressure adds such an artistic element.
The two most memorable hair styles from the video, at least in my opinion are the Hair Phone and the Soda Can Rollers. Read on to find out how I created them!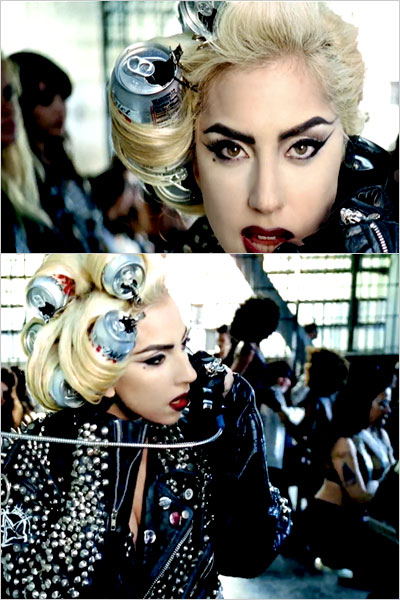 Photos: © Interscope Records
The Hair Phone:
This idea came to me just days before the video started shooting, and the night before the shoot I got a text message from Gaga suggesting we turn the hair bow into a telephone – great minds think alike. I thought why not take her iconic hair bow and update it, but it had to make a statement, it had to be something unforgettable to reflect the level of artistry that Gaga showcases in this one-of-a-kind video.
 The Soda Can Rollers:
Seems like a crazy idea…because it is! Setting hair in recycled soda cans would never fly in any other scenario, but it makes perfect sense here. I wanted to create a look that was jailbird chic, almost like a tough biker chick, but with some beauty humor. When it comes to hair I have to say that the end of the day no matter what style you're creating the key is to make sure your hair looks healthy. To help get your hair nice and healthy I always recommend the Pantene Pro-V Restoratives Time Renewal Shampoo and Conditioner – it does the hair good.
Lastly, I can't leave without saying that I would do this again in a minute! Excuse me; my t-t-t-t-telephone is ringing.
Like this post? Don't miss another one!
Subscribe
via my RSS feed.