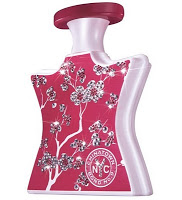 Friend or Frenemy author Andrea Lavinthal is also Senior Beauty Editor at realbeauty.com. I adore her because she can always be counted on to entertain even in the swiftest of interactions and for that reason, she is one of my fave beauty event buddies. Her favorite pretty primping products are from the Bond No. 9 Chinatown collection. Check out which ones and why, in Andrea's words:
I have Bond no. 9 Chinatown Swarovski Eau de Parfum (pictured above), Scented Candle, and Chinatown Body Silk displayed on a small table in my bathroom. The bright pink and white packaging is cooler-looking than any random tchotchke from a home décor store (why Crate and Barrel doesn't throw some crystals on their vases is beyond me).

The scent—a mix of peach blossoms, gardenia, tuberose, and patchouli—is lovely, but I've never actually sprayed the perfume, lit the candle, or used the body cream. Just as a girl can become obsessed with a guy because of his looks, we can become infatuated with a product solely on its packaging. And that's exactly how I feel about this trio: Nice to look at, but I'm not interested in getting to know the inner Chinatown collection.
Thanks, Andrea! Have you tried the Bond No. 9 Chinatown collection? What do you think?
Like this post? 
Don't miss another one!
Subscribe
via my RSS feed.